GETTING STARTED
Before you begin to drive there are some requirements you need to meet:
• You must be 17 years of age or over. Did you know you can apply for your provisional licence up to 3 months before your 17th birthday?
• You must hold a preliminary licence.
For details of how to apply - follow this link: http://www.direct.gov.uk/en/Motoring/Motoringtransactions/BeforeyouapplyA/DG_10032690
• Must not have any convictions or related restrictions that mean you cannot apply for a licence
• You must make sure any vehicle you drive is roadworthy and properly taxed and insured - at L2P with Gary this is taken care of for you, the vehicle we use is well maintained, taxed accordingly and has the insurance you need.
• You must meet the legally defined eyesight requirements - you must be able to read a new-style registration plate from 20 metres (66ft) or an old-style one from 20.5 metres (67ft).
Before your test the examiner will ask you to demonstrate that you can do this, you will have 3 chances to get this right. If you need glasses or contact lenses you can wear them but they then must be worn for the rest of the test - this is a legal requirement.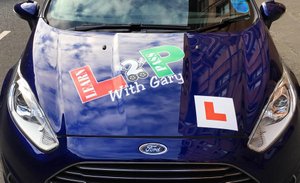 NB: You should inform the DVLA when applying for your driving licence if you have any visual condition which affects both eyes (not including long/short or colourblindness); and visual condition that affects your sight (for instance reduced peripheral vision, only one eye). You should also declare on your preliminary licence if you have had corrective surgery on your eyes.